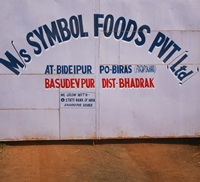 About Symbol Foods
Symbol Foods Pvt Ltd is an Odisha based company with various food products under brand Saanti. We sell various types of high quality rice in local and international market.
We are a young company started in 2008. We believe in customer satisfaction, word of mouth matters a lot to us. We started producing 50 MT rice a day in 2011 and doubled the production to 100 MT over last 6 years. We are looking forward to produce 400 MT rice per day by 2019.
Rice is one of our major products, we produce various types of parboiled rice for our local market. Our products are very popular in coastal belt of Odisha, India. Our products are widely available in the neighboring states like Jharkhand, Chhattisgarh, West Bengal, Tamil Nadu, Telangana, Maharashtra, Kerala, Andhra Pradesh, etc. We also export to countries like Bangladesh, UAE, Australia, USA, Canada, Qatar, African Countries, Bhutan, etc.
We produce parboiled rice, brown rice, raw rice, rice bran, rice husk, rice husk ash, puffed rice or popularly known as muri/moori.
If you are looking for purchasing rice in bulk, then call us at +91 9938178394 or contact us using our website.
Need Rice? Ask for a Quote